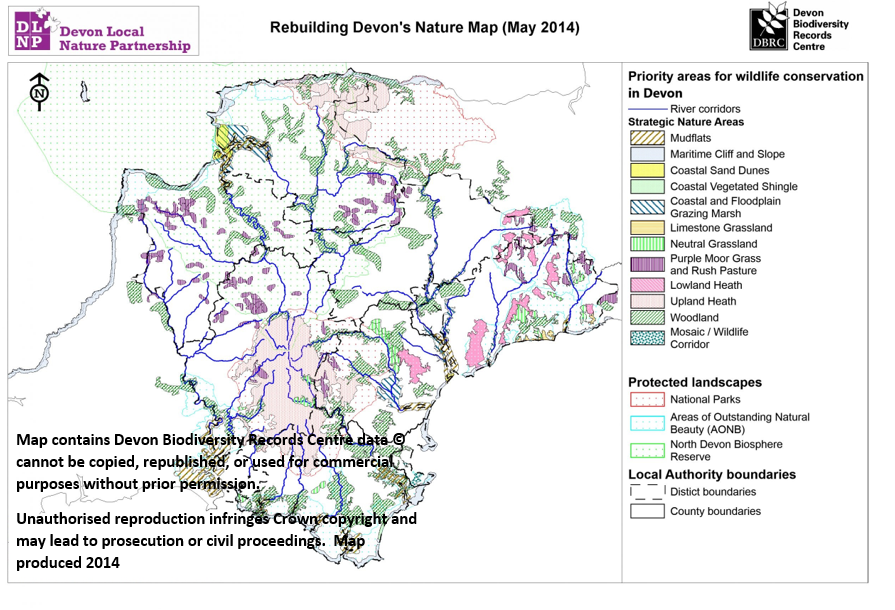 The nature map Identifies the best areas in Devon to maintain and expand our most important terrestrial wildlife habitats. These areas include river corridors and Strategic Nature Areas (SNAs).
Click here for more information about SNAs.
Click here to find an SNA in your area and to download the profile.
Note that Devon's Nature maps is just one tool that can be used to target conservation effort. The Matrix of habitats ( Such as hedges, woods, grasslands and ponds ) within the rest of the countryside is also critical to the survival of our wildlife and supports rare species such as greater horseshoe bats, dormice and cirl bunting. This matrix also needs to be protected, enhanced and appropriately managed.
Has evolved from, and replaced (in Devon), the 2005 South West Nature Map (which is now out of date). It uses best available information, local expert knowledge and is based (with some tweaks) on the methodology set out in Rebuilding Biodiversity in the South West, technical manual
Is 'owned' by the Devon Nature Map subgroup of Devon Wildlife Strategy Group. Members include DBRC, DCC, DWT, DNPA, East Devon AONB and EA. DBRC is responsible for updating the map, as agreed by the group.
For a description of the wildlife habitats listed on Devon's Nature Map please see http://www.wildlifetrusts.org/wildlife/habitat-explorer. Further information can be found in the Devon BAP and 2013 Devon State of Nature report.