Devon Biodiversity Record Centre manage and participate in a wide range of projects year on year. With funding in shorter supply across the environmental sector the value we can add to projects has increased. Our desktop mapping and analysis skills can help target conservation efforts more effectively. If you are developing a project, discuss your data management or mapping needs with us at this early stage so that adequate funding is included in your bid.
These are some of the current projects we are working on. Some of these are annual projects, whereas others are long term multi-year projects:
Biodiversity Monitoring Framework
Many of our most important wildlife sites or areas of priority habitat aren't statutorily designated, for example within a Site of Special Scientific Interest (SSSI), but are identified within a non-statutory framework run by DBRC in partnership with Devon Wildlife Trust and Devon County Council.
Since 2009, DBRC has led a county-wide monitoring program focusing on these County Wildlife Sites (CWS), where we aim to resurvey sites approximately every 10 years. However, some CWSs have not been revisited since their initial designation in the early 1990s due to a lack of resources for resurvey by the project, or changes in ownership which means we cannot contact the landowners. However, DBRC has now seen more than 1000 sites since the project started, and the results of the surveys help us keep track of changes to our landscape at a fine resolution, and report on the state of our environment in Devon.
There are over 2000 CWS, totalling over 30,000 hectares of land (5% of Devon) this equals the area protected within statutory sites, however, we also have a similar amount of potential sites which have yet to be surveyed and designated. Its vitally important that these sites are seen periodically, as they are representative of what's happening to our biodiversity landscape, and can act as a barometer for climate change, the efficacy of changes in policy, and in our understanding of nature's resilience to change.
| | | | | |
| --- | --- | --- | --- | --- |
| Year | No. Sites surveyed | Red condition | Amber condition | Green condition |
| 2016 – 17 | 63 | 12% | 69% | 19% |
| 2017 – 18 | 137 | 20% | 49% | 20% |
| 2018 – 19 | 65 | 9% | 42% | 49% |
Example summary of survey outcomes from 2016 to 2018
---
Conservation Communities Project – DWT/DBRC:
This project builds on many years of landscape-scale work in North Devon by both of our organisations, including the development of biodiversity audits by DBRC for numerous parishes within the NIA project. In October 2019 we secured funding through the National Lottery Heritage Fund, to work in 11 of those parishes, supporting local residents and community groups to get involved in a range of biodiversity led initiatives, which will greatly improve our collective understanding of the species and habitats there. Residents will be able to attend a range of training workshops, walks and talks, and alongside local experts, individuals and volunteer groups will be supported in a range of nature-based activities. These include setting up long term monitoring of indicator species, such as otters and dormice, sharing knowledge on nature-friendly verge management, pond creation and improving access to nature for local residents. You can find out more at the project website.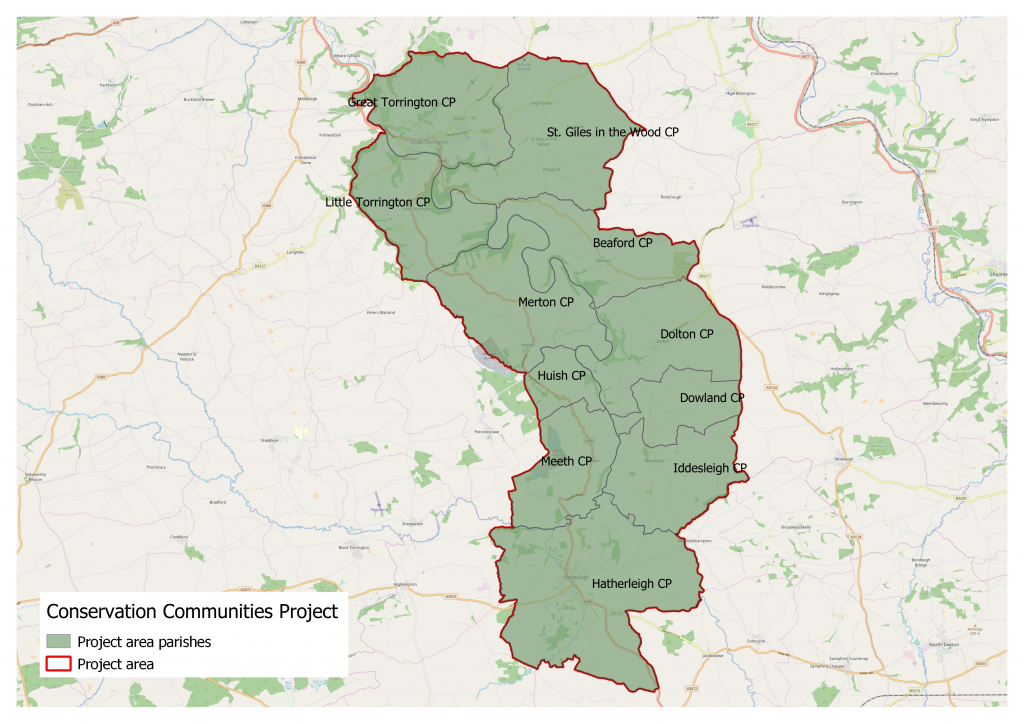 ---
Green Minds – DWT/Plymouth City Council
Following on from several recent community based green space initiatives by the city council and DWT, this European funded project will be working within a new, wider partnership. It aims to breathe new life into a number of community spaces, ranging from traditional parks to strategic green corridors, increasing peoples enjoyment, and understanding of the nature benefits good management with local input can bring. DBRC will be monitoring sites, alongside citizen science elements developed with local residents. Training and mentoring will enable interested individuals and groups to be supported in learning about species and habitats, and how they can be protected and have increased resilience into the future. If you would like to learn more about the project, you can visit the project website here.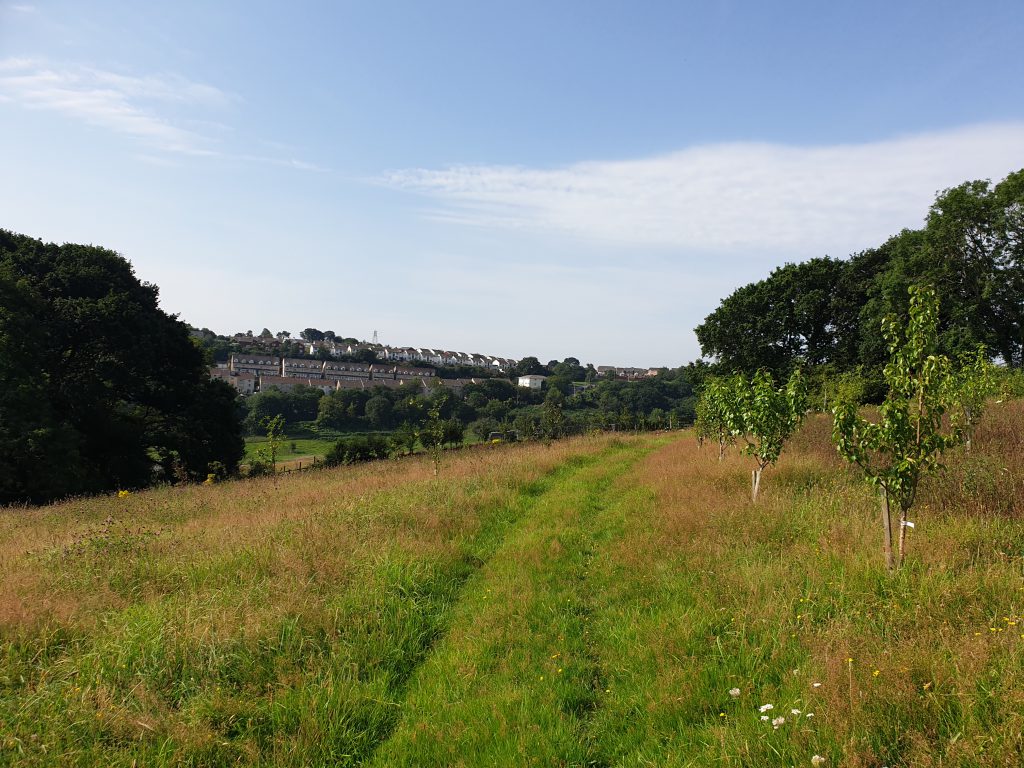 ---
Tamara Landscape Partnership project
After a highly successful development phase, this project has now been granted its main funding grant, and over the next few years will deliver a range of cross cutting, historical & natural environment, and social/enterprise initiatives. These will help increase the areas resilience to climate change, and its ability to rise to the economic challenges many sectors locally, currently face.
The project is funded through the New Heritage Lottery Fund and offers the partnership the opportunity to focus on elements such as farming and land management challenges, alongside flooding, access, enjoyment of the landscape, its increased resilience, and nature, alongside the historic environment. In addition, it will work with local businesses and traditional micro initiatives such as Tamar Grow Local, which seek to create jobs and investment in the Tamar Valley, by harnessing just one of the valleys long-established, but often undervalued strengths.
DBRC are central to many of the biodiversity sub-projects, providing ecological skills, biodiversity data gathering and management resources, and existing data and evidence. Our first task has been to undertake habitat audits of four of the Nodal Farms, that are partnering the project. This is through a mix of remote sensed aerial photo interpretation of the land holdings, liaising with the landowners to identify focus areas, and ground-truthing through field based survey. These baselines will then help each holding plan any interventions and monitor changes through the extent of the project, as re-surveys are planned in the final year. Click here to visit the project website.
---
Ancient Woodland Inventory Review
As part of a national initiative driven by the Woodland Trust and Natural England, DBRC has formed a large county partnership to fund this review in Devon. The existing inventory managed by NE is over 30 years old and has limitations associated with hand mapping pre GIS, and current technology. The historical threshold of including sites over 2 hectares (ha) is also becoming more of an issue in relation to modern planning and conservation needs. Devon is a historic landscape which has seen many areas of woodland fragmented by development, and changes in land use/land management, and there is poor representation on the inventory of the county's many smaller but highly important sites – leaving them potentially vulnerable to threats in coming years. Using the latest datasets and technology, alongside robust historical evidence, over the next three years DBRC will review many thousands of aerial photo images, maps and text from archives, to complete this project. There will be opportunities for volunteers to assist in some elements, and as ancient woodland has deep connections with ancient folklore and the historical environment, this project may appeal to a wider audience. For example, place names can be associated with landscape features such as historical woods and treescapes. Communities where these woods and the special quality they can bring are valued, will be able to help ground-truth the new map being developed and ensure sites are correctly represented on it. This will increase the ability of the AWI to protect this natural and irreplaceable asset for future generations.
We would like to thank our funders and project partners, without whom this review would not be possible.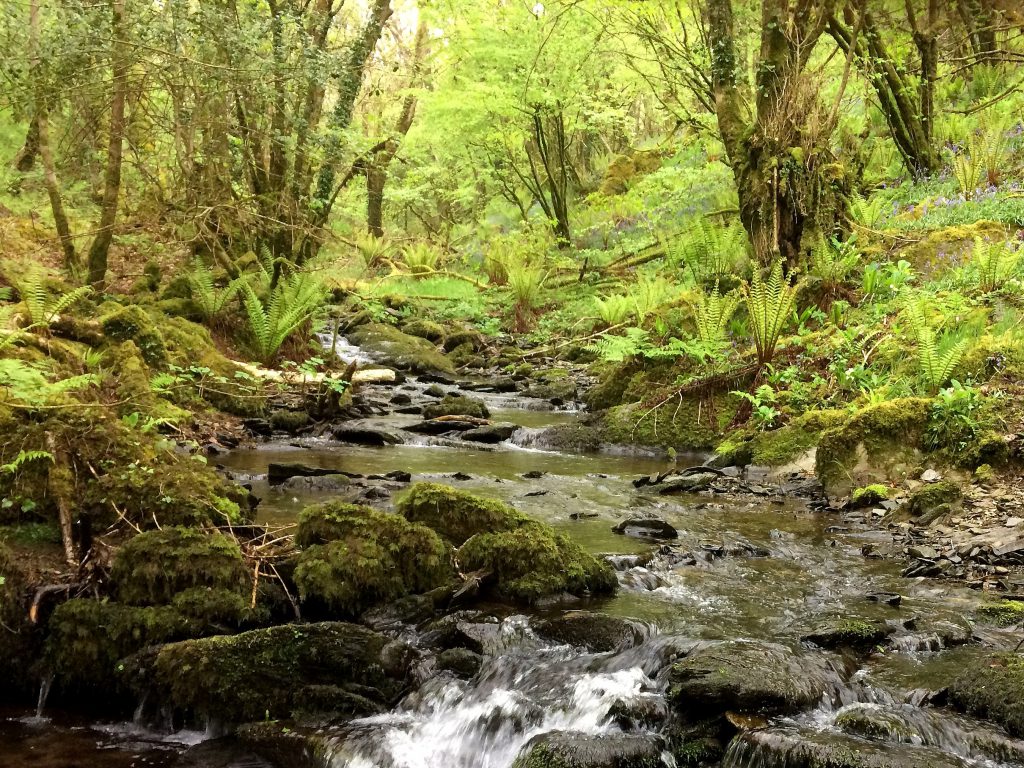 ---
Connecting the Culm Project – Blackdown Hills AONB
Over the next three years, DBRC is leading on the biodiversity monitoring elements of this project, ensuring that the direction of travel post-intervention on target sites can be measured. The project aims to work with communities and stakeholders within the catchment to identify and define a range of nature-based solutions which can increase the flood resilience of those areas. Protecting housing and infrastructure as well as people, as we move forward in an uncertain climate change scenario. The catchment rolls downhill from the mire habitats at the top of the Blackdown Hills, through mid-Devon and into the National Trust Killerton Estate, where flat grassland rich agricultural land prevails. DBRC will train and support volunteers involved in surveying these habitats, and a range of indicator species which provide intel on their condition and functionality. We will measure carbon capture through an international citizen science project, feeding into a wider global project, and support partners in designing a legacy which includes upskilling those communities, making them more able to participate in future schemes.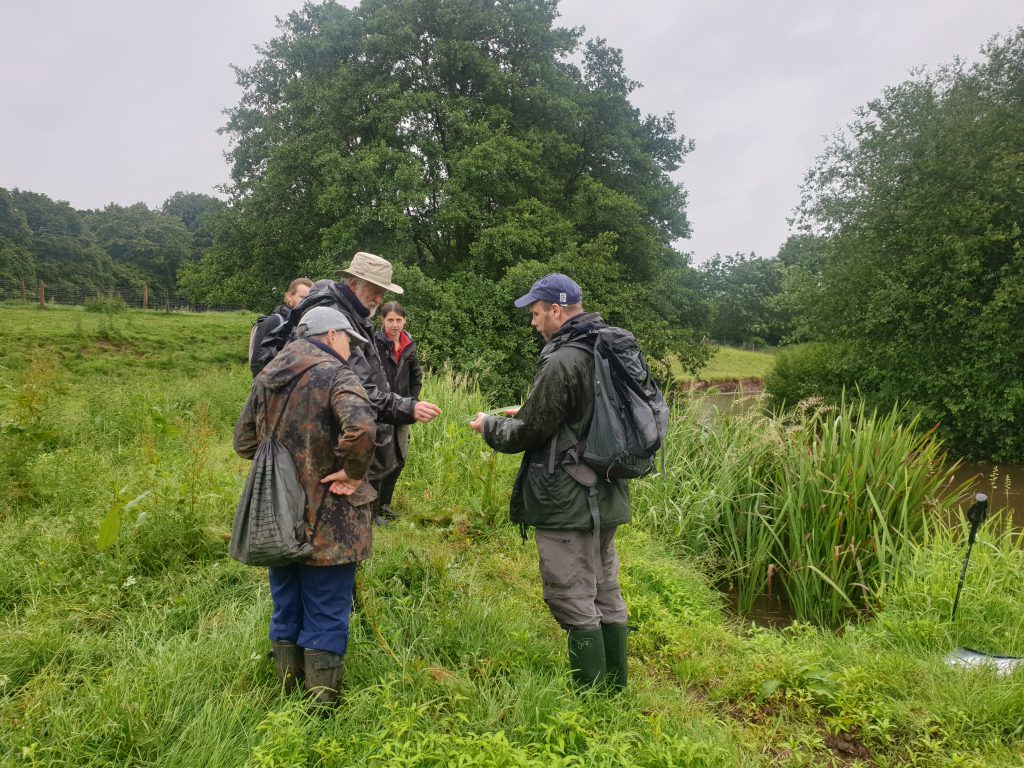 ---
Devon Nature Recovery Networks
During the last 12 months, DBRC has led on the technical development of the Nature Recovery Network mapping in Devon, on behalf of a broad partnership.  The overall project is being driven by Devon Wildlife Trust, and Devon County Council, with support from local authorities, conservation NGOs, statutory agencies and a range of stakeholders.  Whilst the mapping forms a central part of the project, other strands will include ensuring that appropriate community and landowner support, and information is accessible.  The success of this project will rely on people and businesses engaging from all sectors, across the county, and whilst some areas of the national framework are still in their infancy, the forthcoming Environment Bill, will further focus effort in Devon, and within the UK. You can visit the Devon LNP website for more information.
---
South Devon Water Vole Project
Recent grant funding from Devon Environment Foundation and South Devon AONB is enabling DBRC to investigate a possible return of water voles to a small area of South Devon. Water voles were once common in our waterways, but were declared extinct in Devon in 2002. In recent years some very limited reintroductions have been returning this iconic and highly threatened species to our landscape.
This pilot project aims to identify the potential distribution of water voles within a discreet area of South Devon, initially working with a small number of landholders on targeted surveys. Our approach has been shaped by C19, and its negative impact on delivering face to face training events. Therefore, unfortunately, volunteer opportunities are limited this year. However, we are hopeful that post this season (and C19), we are able to use our findings to help develop a wider project, which has the appropriate training and support required, for volunteer surveyors to take part. In the meantime, if you have a record of a water vole sighting, please send it in via our sightings page Wildlife sightings – DBRC. For more information contact Jess via jsmallcombe@devonwildlifetrust.org.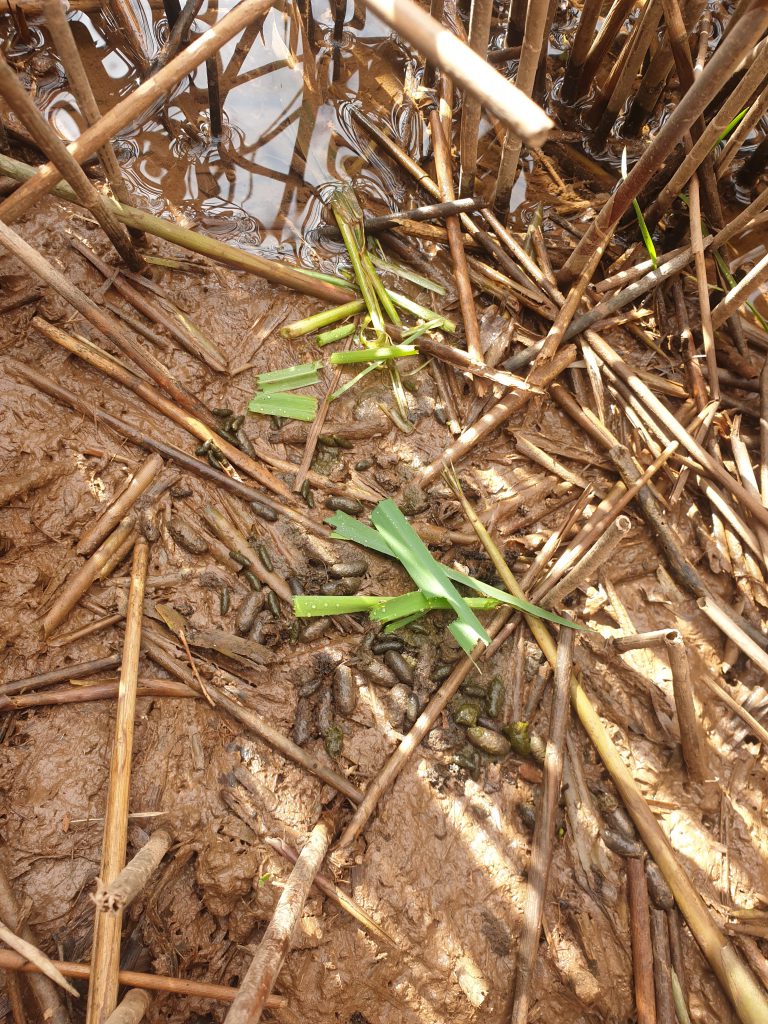 ---
Wilder Woodah
Wilder Woodah is one of 12 projects being run across England to seek natural solutions to tackle both the biodiversity crisis and climate change. The project is funded by the People's Postcode Lottery, with Woodah Farm set to become a demonstration site for nature-based solutions for local farmers and other visitors. Management changes are being implemented which include tree planting, installing deer exclosures, ceasing the hay cut and reducing grazing. Alongside soil surveys and aerial photography conducted by the University of Exeter, DBRC are organising the baseline surveys across the site. Several volunteers are conducting surveys, having contributed more than 100 hours to the project by the end of July 2021. To monitor the impacts of the changed habitat management on the site's flora and fauna surveys will be repeated yearly, whilst others will be repeated in six years' time. Surveys include an extended phase 1 survey, quadrats surveys to record percentage cover of plant species, butterfly transects, butterfly surveys, moth trapping, sweep netting, fly surveys, bat surveys, dormouse surveys, pitfall trapping and fixed-point photography.
The nationally scarce Greater broomrape has been recorded as well as the two nationally scarce moth species cloaked Carpet and Kent black arches.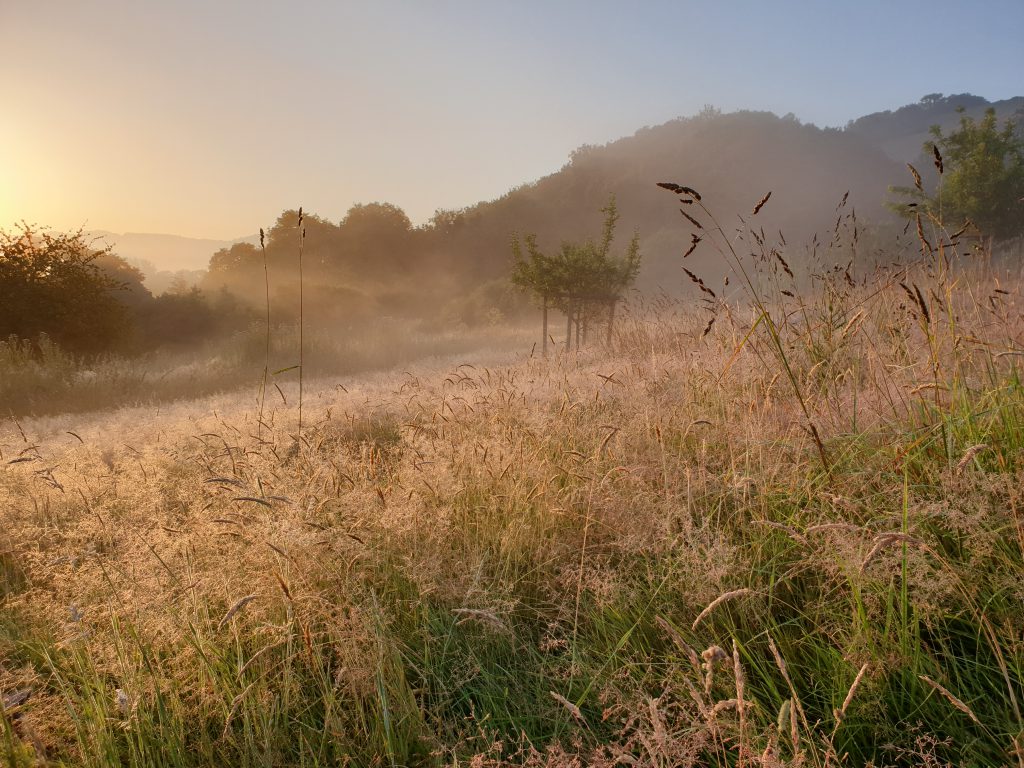 ---